The AHTR Callsign Database provides technical information on licensed public broadcast stations in Canada.
Page Updated: 2010-12-05
Coming soon: Online Stream List - Skip the ads, the time limits, and the flash player: Go directly to the stream URL for rapid access, or use on dedicated internet radios or mobile devices.
In progress: Map view, and updating Edmonton TV station list to reflect new digital CITV-DT and CKEM-DT.
Google Map View
Project in progress - Listings will be moved to a graphical representation where it will be more useful to view stations based on geographical location
to aid in antenna aiming, reception troubleshooting or for DX enthusiasts. This will include broadcast AM and FM, Analog and Digital television, and Weatheradio stations.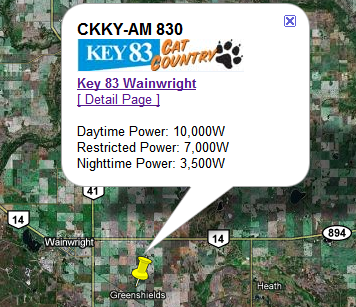 Listings
Database Query
Search the database directly for stations.
Enter a station callsign below: